ITEM DESCRIPTION:
"ANDREW WYETH"
13" x 18", 175 pages
Published 1968, Houghton Mifflin Company
Contains a hand drawn illustration on the title page by Andrew Wyeth of "the mill" with the written dedication "drawn for Virginia & Hank with warmest wishes - Andrew Wyeth". The mill was one of the buildings on the Wyeth property that Andrew frequently drew. Another later drawing of the mill can be seen on our Andrew Wyeth Full Catalog page (here), a study for his iconic painting "Night Sleeper".
PROVENANCE:
From the collection of Hank and Virginia Shupe, original owners of "Hank's Place", a well known Chadds Ford, PA restaurant on the corner of Route 100 and Route 1 (very near Andrew Wyeth's house and studio).
Family account:
"Andy, Betsy and Jamie were regulars at Hank's Place. Sometimes Andy would stop by just to say "Hello" to everyone."
"One day Jamie (Andrew's son) was in having lunch and he asked Virginia for an apron, he brushed his hair down his face and served someone just to see if they would recognize him. They didn't."
"Andy stopped by Hank and Virginia's home one Sunday morning. Their home was located across the the highway from the Stand as "Hank's" was sometimes called. They were eating breakfast and invited Andy to join them, however Andy declined and while Hank and Virginia finished their meal Andy sat down in the living room picked up the book and sketched the "Mill" and then signed it."
PRICE:
$6,200.00
More on Hank's Place: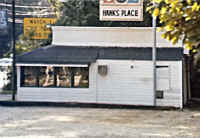 Hank's in the 1960's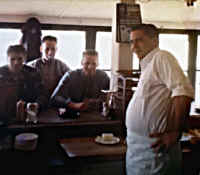 Hank Shupe (right - this side of the counter) and Bill Greener, Franny Thompson and young Hank Smedley (on the other side of the counter) (1960's).
Victory Wyeth @ Hank's Place (YouTube video)
Photo of Andrew Wyeth and Helga at Hank's (From Catherine Quillman article)